Allison at the Crystal Cathedral in Garden Grove, California
Captivating audiences with a mesmerizing tale of hope and healing, Allison's journey from decades of New Age searching to a faith-filled life as a Christian enables her to connect with her audience in a very real and down-to-earth way. Allison's goal is to inspire and encourage men and women to make new direction choices that will change their life and bring them closer to God. Speaking in a refreshingly transparent and vulnerable style, she addresses controversial topics in a non-confrontational way. Uncommonly candid, Allison's personal testimony is threaded throughout all of her talks and is the foundation of her outreach. Her ability to impart transformational change within the hearts of audience members comes from her ability to share an incredible life journey with honesty, integrity, passion and poise.
Allison Bottke has inspired and enlightened audiences throughout the United States with her transparent vulnerability combined with practical information. In high demand as the keynote speaker for events around the country, Allison's messages can be presented in either a Christian or secular setting. Biblical truths, including chapter and verse references, are only presented in the Christian setting. The God Allows U Turns message is Allison's personal testimony and while always appropriate for Christian groups, it can also be presented in the secular setting. Allison speaks to audiences of both women and men.
To find out more about how you can book Allison for your next event, contact Speak-Up Speaker Services.
Listen to Allison at First Friday in Southlake, Texas: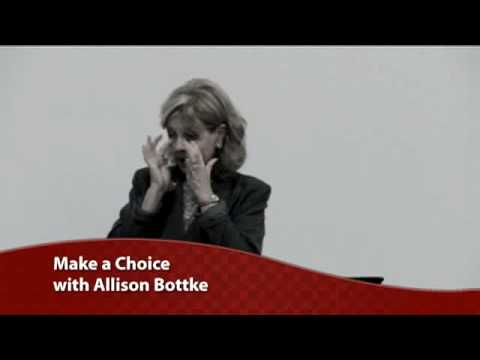 Allison's Speaking Topics
Allison's presentations are appropriate for the following categories and event:
Keynotes
Christian Worldview
Church Events
Inspirational
Parenting / Family
Women's Retreats / Conferences / Events
Writer's Conferences
Popular Topics and Retreat Packages
Each is ideal for a keynote message and can be tailored for a specific event, banquet, or expanded for a conference, retreat, or evangelistic outreach.
God Allows U-Turns: The Choices We Make Change the Story of our Life
Allison share's her powerful testimony and how the acclaimed God Allows U-Turns international outreach was born. With an inspiring message that it's never too late to make life-changing U-turn choices, she encourages and empowers attendees toward a deeper relationship with God. This topic of redemption and hope is appropriate for virtually every event and audience.
Setting Boundaries with Adult Children: A SANITY Journey to Hope and Healing
It's an epidemic with catastrophic consequences and one about which Allison is quite familiar. In an era when personal accountability has become more and more scarce, it's often the parents who have spent years enabling their children who are now suffering. Feelings of guilt, shame, fear, anger, frustration, and the inability to trust our adult children invade our existence. How do these feelings play into the dynamic of not only accepting, but in some cases encouraging negative behavior in adult children? In the powerful message fashioned after this landmark book, parents will not only learn to recognize the negative behavior of their adult children, but more importantly, their own negative responses to it as well. Allison guides audience members on the journey to establishing and implementing workable boundaries that will bring harmony and SANITY back to families. Based on Allison's landmark book: Setting Boundaries with Your Adult Children from Harvest House Publishers.
Writer's Conferences
Allison often speaks and teaches at writer's conferences. She has delivered the keynote address and/or taught on the Faculty of such conferences as: the Jerry Jenkins Writing for the Soul Conference, Blue Ridge Christian Writer's Conference, Philadelphia Christian Writers Conference, Glorietta Christian Writers Conference, Write to Publish, Seattle Pacific Christian Writers Conference, and the North Texas Christian Writers Conference.
Custom Developed Messages
Allison is happy to develop messages for your specific audience. Contact her speaking bureau below to discuss your needs.
A Note From Allison Bottke: What sets you apart from many other speakers today?
I don't have any formal training in theology—I've never been to seminary. In fact, I quit school after the ninth grade and ran away from home to get married at the age of sixteen. I'm horribly dyslexic and combined with an Attention Deficit Disorder things can sometimes be challenging for me. What sets me apart, I think, is the sum total of my past and present.
Like Paul's dramatic U-Turn on the Damascus Road, my U-Turn life story is also dramatic, and God is using my past trials and tribulations to open doors into the hearts of women. Many women can relate to my story on some level, and it's that shared connection that often opens the door to change. It's the shared experiences that can often bridge the chasm of distance between us and God as women see how God can use our brokenness to change lives.
I will always be a girl from the Projects in Cleveland, Ohio, yet my past does not define who I am in the present. I believe in my heart the Lord allowed me to live a turbulent life so I could stand as a firm witness that no sin is too great that you can't turn around. God continues to allow U-Turns in my life and in the lives of all my brothers and sisters-in-Christ, as we put our trust in Him.
Note: Allison's history includes early childhood molestation, extreme domestic violence, drug abuse, abortion, teen pregnancy, and a New Age Life style. Specific incidents are shared throughout her messages that may not be appropriate for younger children. Parental discretion is advised.
Find Out More
To find out more about having Allison speak for your next event, please contact:
Watch Allison's personal story as featured on "The 700 Club"